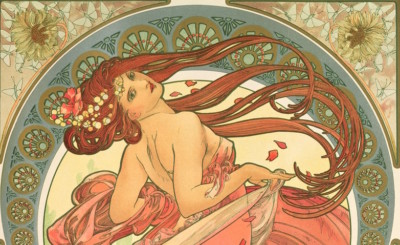 Alfons Mucha and the Art Nouveau atmospheres
The exhibition, with over 220 artworks, purposes to the audience a various and complex path that reconstructs the elegant, precious and sensual taste of the epoch through the Alfons Mucha's creations, the furniture and decorative artworks by European artists and workshops, operating in the same period of time.
The main nucleus of the exhibition consists in 120 artworks between affiches and decorative panels made by Alfons Mucha (1860-1939), coming from the Richard Fuxa Foundation. The Czech artist is one of the most significant interpreters of Art Nouveau, becoming the "promotor" of a new language of communication, a powerful and innovative visual art: the feminine images of his posters were very popular in all the social classes of his time and even nowadays it's easy to identify his unique stylistic characteristic that made him eternal symbol of Art Nouveau.
The "Mucha Style", unique and recognisable, is adapt to be applied in a big variety of contests: poster, interior design, promotion for any kind of object, illustrations and also theatre productions, jewel design and are placed side by side with a series of ceramics, furnitures, wrought iron, glasses, sculptures and artists' drawings and European workshops similar to the same sensibility extremely floral and sinuous that characterized a certain front of international modernism, most of all in France, Belgium and, partly, in Italy.
The exhibition aim is the return of the idea of a rich and various epoch through the dialogue between Mucha's inventions with contemporary ambient and decorations reconstructing the magic atmosphere of the Belle Epoque.
The themes of the various sections are: the theatre, the everyday life, the feminine, the Japanism, the animal world, the precious materials, time and the floral imagery. The exhibition closing is a section dedicated to Italian and French high fashion as testimony of taste evolution as modernist direction even in the design field.
Curated by Stefania Cretella and Karel Srp
Milan, Palazzo Reale, 10th december 2015 – 20th march 2016