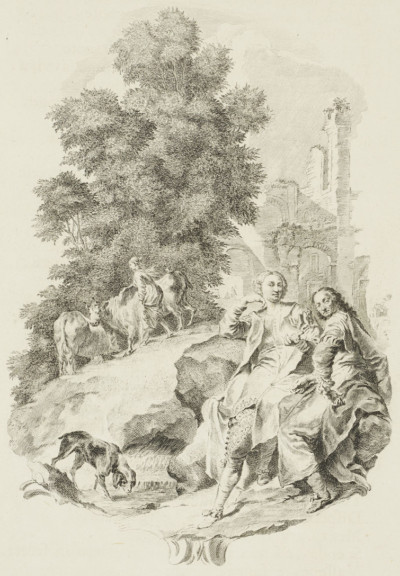 Giambattista Piazzetta and the Gerusalemme liberata by Torquato Tasso/1745
The little exposition is dedicated to one of the more precious printed volumes published by the famous editor Giambattista Albrizzi in 1745 in Venice. Considered the most beautiful illustrated books of the Venetian Eighteenth century thanks to the engraved figures, it's recognised as a real artwork that weaves together the artist's inventory poetics with the more technical aspects of the publishing industry during the Eighteenth century.
The volume has also been chosen in relationship with the contemporary exhibition about the Veronese painter Antonio Balestra, also a book illustrator.
The two original editions, one from the bibliophile Corrado Mingardi's collection, the other one on loan from the Libreria Antiquaria Perini of Verona, are confronted and supported by a multimedia emplacement that allows to virtually leaf through the pages and to go in depth on some technical aspects. In addition, there are didactical supports analysing the cultural context in which both Giambattista Albrizzi and Giambattista Piazzetta lived and worked, and various topics from the volume.
The exhibition is the well-chosen result of a convention between the Castelvecchio Museum, University of Verona and, particularly, the Rossana Bossaglia's Research Centre of Department Culture and Civilization.
The results of the researches and the texts of the exhibition are consultable in the archive "Graphic and illustration".
Curated by Giulia Adami
Verona, Museo di Castelvecchio, 6th December 2016 – 19th February 2017